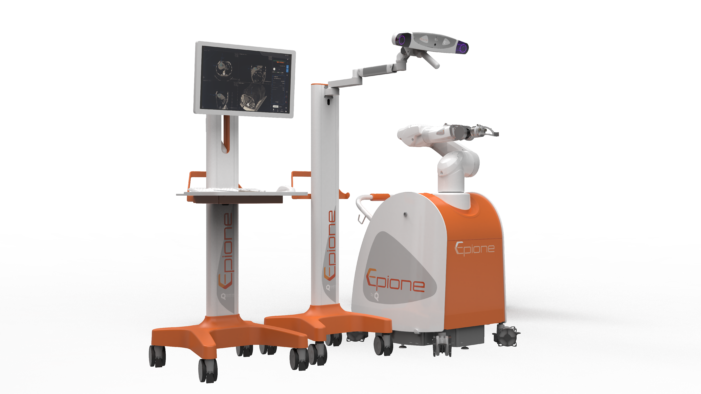 Quantum Surgical, an innovative medical robotic company, will exhibit Epione®, a unique robotic-assisted technology that enables physicians to Plan, Target, Deliver and Confirm tumor ablation at the Radiological Society of North America's (RSNA) 2021 Annual Meeting in Chicago, IL, Nov 28 to Dec 2.
Epione® is the only all-in-one robotic-assisted solution that provides multimodal preplanning, robotic guidance and ablation confirmation. Using the power of robotics and image fusion technology, Epione® aims to provide clinicians with the ability to reach targeted tumors consistently.
"RSNA tradeshow is a great opportunity to connect with our prospective customers as well as provide a full preview of Epione®, our medical robot. Since 1980, the incidence of liver cancer has more than tripled. It is crucial to provide physicians advanced tools to improve patients' lives by democratizing minimally invasive treatments through robotic-assisted procedures," said Bertin NAHUM, CEO and co-founder of Quantum Surgical.
Epione® received the CE mark approval this summer following a successful multi-center clinical study completed earlier this year. Epione® device is not available for sale in the USA, pending FDA clearance.
About Quantum Surgical
Quantum Surgical is an innovative medical robotics company committed to contributing to the development of tomorrow's healthcare. It aims to set new standards in cancer treatment by allowing more patients to benefit from innovative, targeted and less invasive treatments.
Quantum Surgical is introducing Epione®, a unique robotic solution designed to assist physicians plan, guide, and assess percutaneous ablation of tumors in the abdomen, a technique in which a needle is inserted through the skin to the tumor to remove it.
Co-founded in 2017 by Bertin NAHUM, Quantum Surgical is headquartered in Montpellier, France.
For more information, please visit Quantum Surgical and follow on LinkedIn and Twitter.