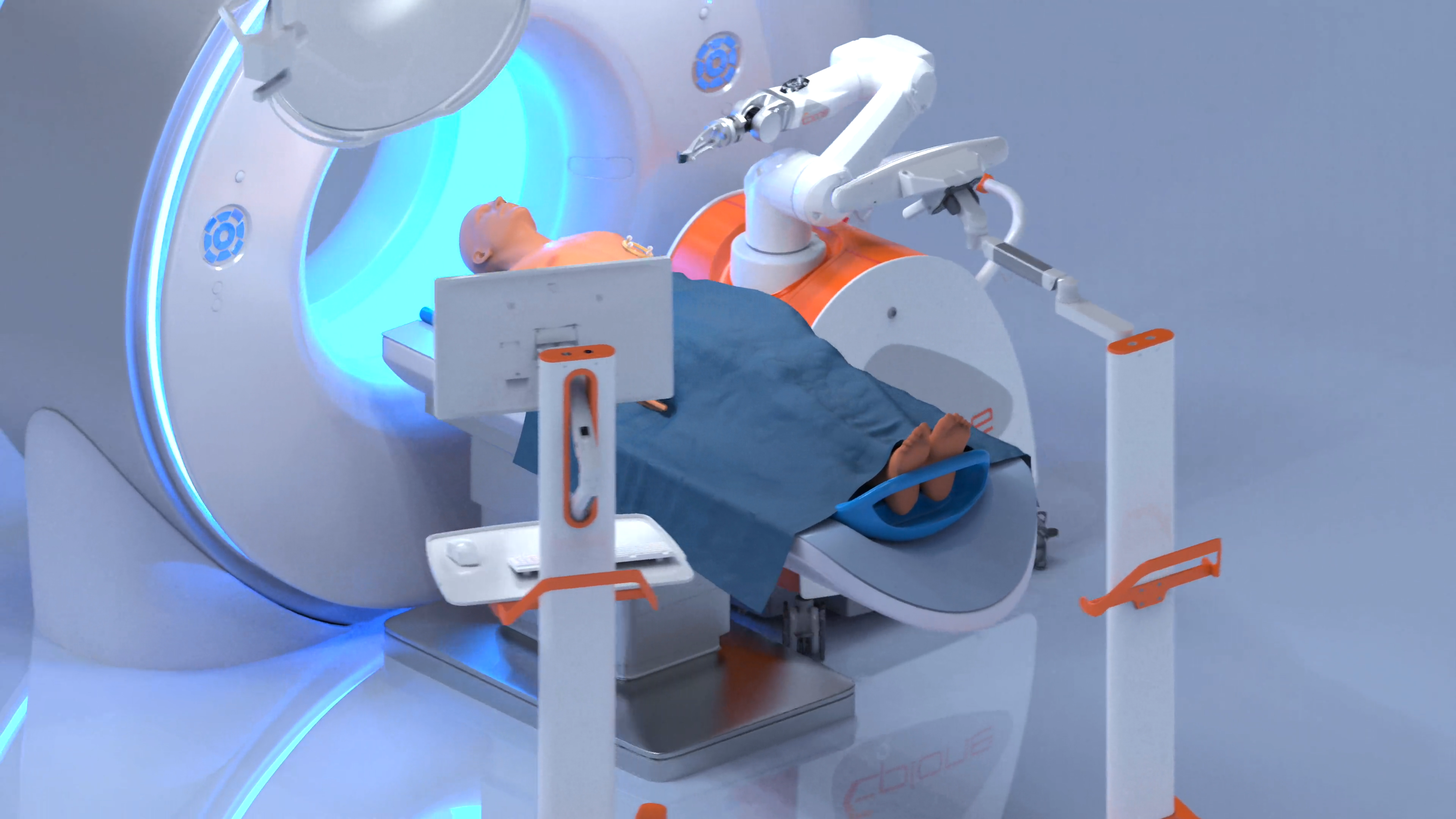 The internationally renowned Gustave Roussy cancer center has become the first hospital globally to offer minimally invasive robotic procedures with the Epione® device, the medical robot developed by Quantum Surgical for liver cancer treatment.
This first contract between Quantum Surgical, an innovative company developing medical robots, and Gustave Roussy (Villejuif, France), Europe's leading cancer center, aims to enable more patients to benefit from Epione® for the minimally invasive treatment of abdominal tumors. This technique involves inserting a needle through the skin to destroy tumors.
Professor Thierry De Baere, head of the Therapeutic Imaging Department at Gustave Roussy, and his team will be the first in the world to use the Epione® robot in their routine clinical practice. Dr. De Baere is a world renowned expert in Interventional Oncology and he previously participated in the first clinical trial of Epione®, which successfully treated liver cancer robotically.
"Gustave Roussy is one of the world's leading cancer centers and we are proud to have them be Quantum Surgical's first customer of the Epione® robot. This installation will allow us to take a major step in cancer treatment by offering patients an innovative and minimally invasive treatment for liver tumors. Gustave Roussy is the ideal institution to partner with to showcase the potential of Epione® to help physicians perform safe and effective percutaneous tumor ablation in the abdomen and accelerate the clinical adoption of our medical robot," said Bertin Nahum, President and Co-Founder of Quantum Surgical.
"We look forward to evaluating new possibilities for minimally invasive treatment of small primary or secondary liver tumors for Gustave Roussy patients," said Professor Thierry De Baere, Head of the Therapeutic Imaging Department at Gustave Roussy and a member of Quantum Surgical's scientific advisory board.
About Quantum Surgical
Quantum Surgical is an innovative medical robotics company committed to contributing to the development of tomorrow's healthcare. It aims to set new standards in cancer treatment by allowing more patients to benefit from innovative, targeted and less invasive treatments.
Quantum Surgical is introducing Epione®, a unique medical robot designed to assist physicians plan, guide, and assess percutaneous ablation of tumors in the abdomen, a technique in which a needle is inserted through the skin to the tumor to burn it.
Co-founded in 2017 by Bertin NAHUM, Quantum Surgical is headquartered in Montpellier, France.
For more information, please visit Quantum Surgical and follow on LinkedIn and Twitter.