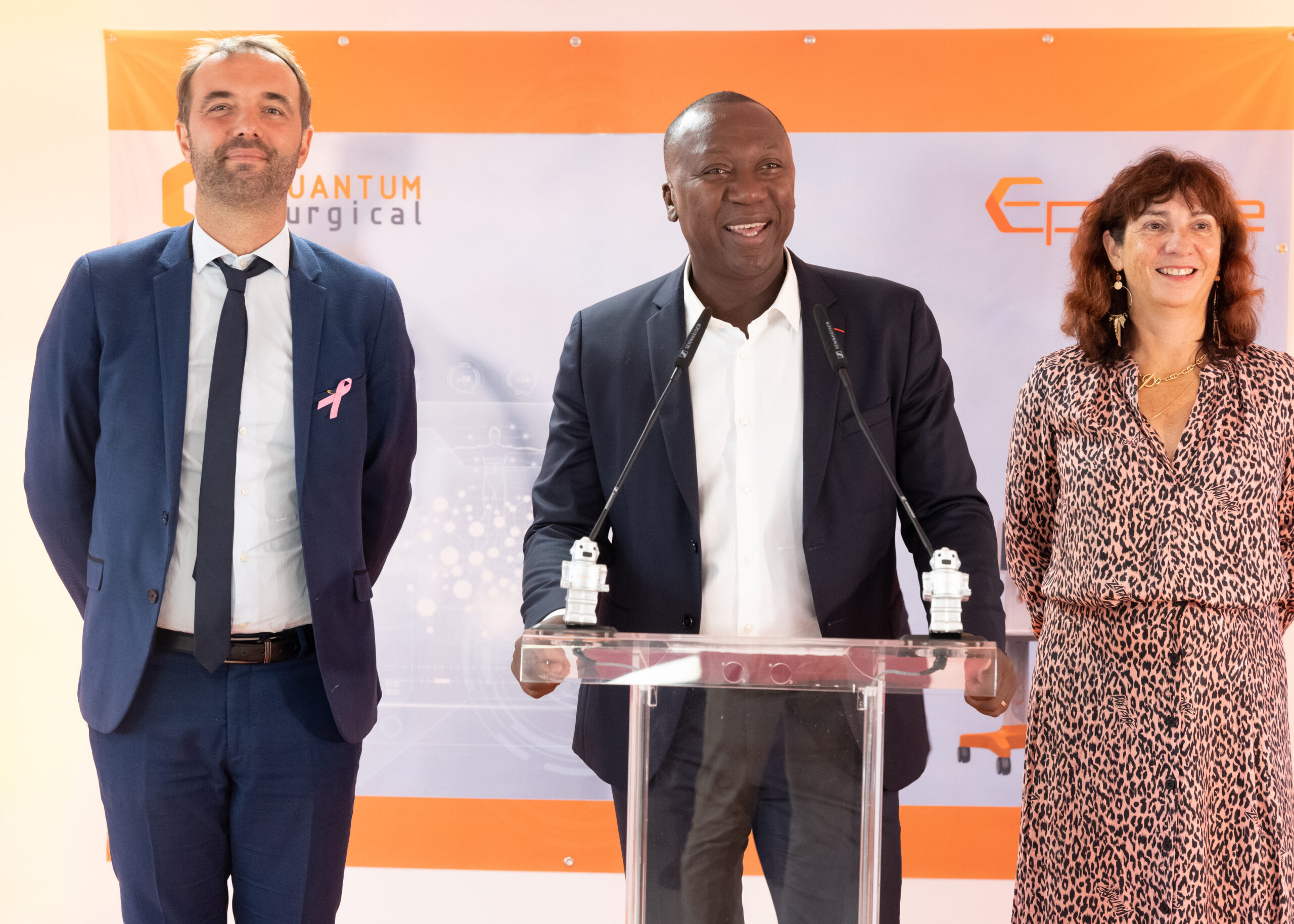 Montpellier – France, 4 October 2022 – Quantum Surgical, an innovative French medical robotics company specializing in minimally invasive treatments of abdominal cancers, celebrated the grand opening of its newly expanded campus and facilities in Montpellier on Monday, October 3rd.
Bertin Nahum, President of Quantum Surgical, together with his co-founders, honored the presence of Michael Delafosse, Mayor of Montpellier and President of Montpellier Méditerranée Métropole, in dedicating the new Quantum Surgical Campus.
"Our campus has nearly doubled in size with this expansion and now fully equipped to meet our development objectives : more than 25,000 ft², of which 18,000 ft² are exclusively dedicated to increasing manufacturing capabilities and developing next-generation innovations in robotics and artificial intelligence. Our intent is to create an environment that combines state of the art technology development with medical device manufacturability", specifies Bertin Nahum.
This latest milestone, which also matches the 5th anniversary of Quantum Surgical, aligns with the successful scale-up of the company.  Quantum Surgical has managed to develop, manufacture, and launch Epione, a brand new medical robotic platform, within the first 4 years of the company's history.  This represents an undisputed industry record in time to market and continues to raise the bar in the field of medical robotics.  Today more than 100 team members make up Quantum Surgical worldwide through focused actions in Europe, United States of America, as well as a joint venture in China.
Quantum Surgical has always taken pride in reacting quickly to feedback from many clinicians as early as the proof-of-concept stage and more recently consolidated its clinical expertise by setting up a diverse International Advisory Board.  Quantum Surgical is also very proud to recognize Gustave Roussy as the first center having acquired Epione. Since early 2022, Professor Thierry de Baere and the team at IGR have successfully treated more than 60 cancer patients with this unique robotic platform.
About Quantum Surgical
Quantum Surgical is a medical robotics company committed to developing tomorrow's healthcare. It aims to set new standards in cancer treatment by allowing more patients to benefit from innovative, targeted and less invasive treatments.
Co-founded in 2017 by Bertin Nahum, Quantum Surgical is headquartered in Montpellier, France. The Quantum surgical team has over 80 employees and a leadership team with extensive backgrounds in medical, orthopedics, neurosurgery, and spine surgery robotics.
For more information, please visit Quantum Surgical website and follow the company on LinkedIn and Twitter.