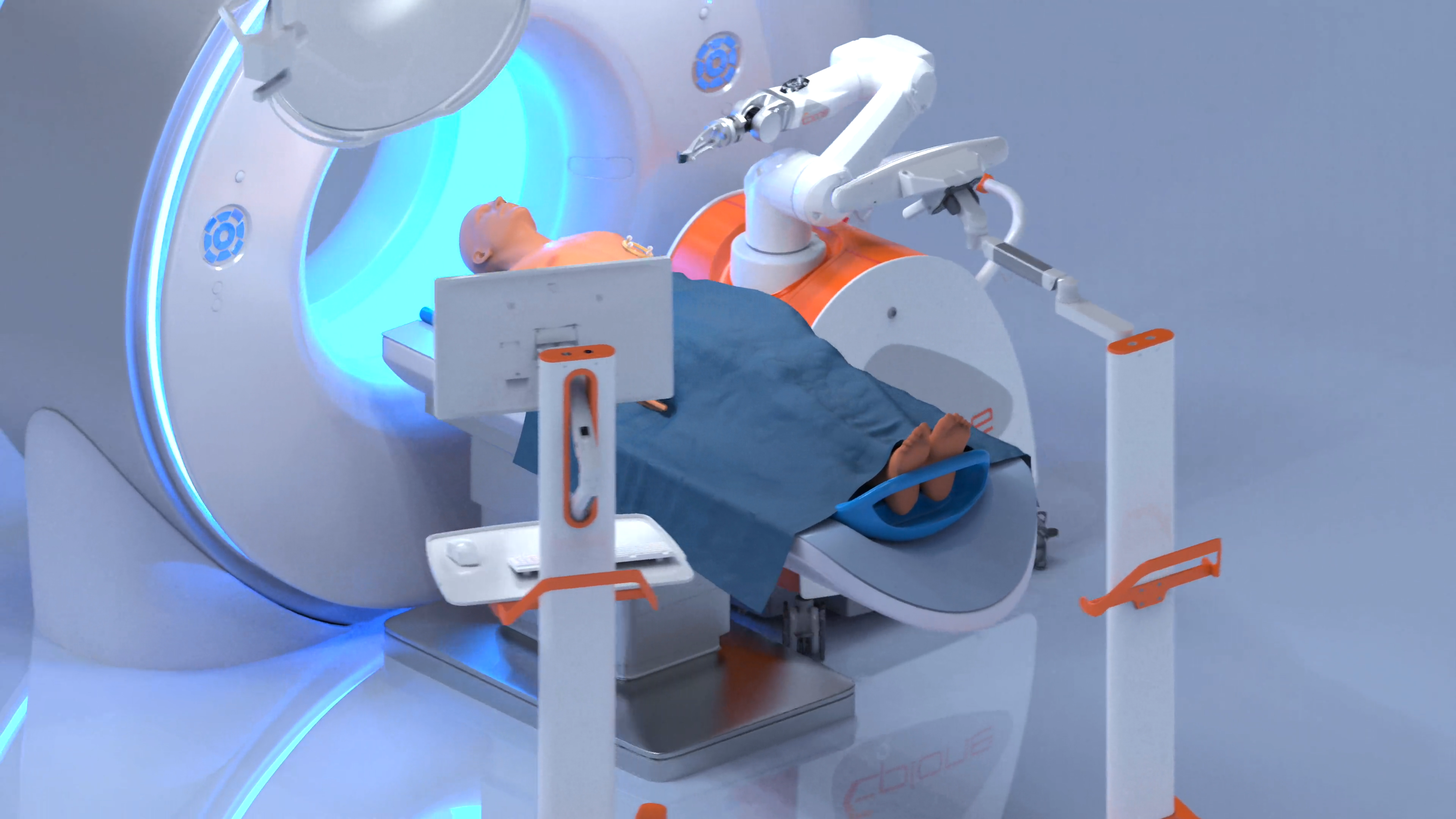 Epione® is a unique robotic-assisted technology that can plan, target, deliver and confirm tumor ablation 
Epione® aims to improve patients' lives by democratizing minimally invasive treatments through robotic-assisted procedures
Quantum Surgical, an innovative medical robotics company, announced today the US Food and Drug Administration (FDA) 510(k) clearance for Epione®, a new category of interventional oncology robotics dedicated to minimally invasive liver cancer treatment.
"This clearance enables interventional oncologists to access state-of-the-art technology that has the potential to improve clinical outcomes and patient's lives. We believe that the clinical adoption of innovative robotic solutions like Epione® will be a significant step toward allowing more patients to benefit from minimally invasive therapies in cancer treatment," said Bertin Nahum, President and Co-Founder of Quantum Surgical.
Epione® is a unique robotic-assisted technology designed to plan, target, deliver and confirm tumor ablation. Epione® enables clinicians to perform safe and effective percutaneous tumor ablations, a minimally invasive treatment in which a needle is inserted through the skin to the tumor to destroy it.
"It is tremendous to see Epione® now available in the USA as I believe technology like this will have a meaningful impact in the Interventional Oncology space.  Percutaneous tumor ablation is a proven therapy that is underutilized today, and Epione® will allow expansion of this minimally invasive treatment to more patients battling liver cancer," said Nishita Kothary, Professor of Radiology at Stanford University Medical Center.
The FDA 510(k) clearance permits the commercial sale and the use of the Epione® interventional oncology robot in the United States to facilitate treatment of early-stage liver disease, a leading cause of cancer death. More than 3 million people are diagnosed with liver disease each year throughout the world. The company plans to extend indications for the Epione® platform to other organs and is developing artificial intelligence-based decision-support features.
"Epione® introduces an exciting new era by expanding technical ability and safety in the diagnosis and treatment of lesions anywhere in the liver," added Prof. Steven Colquhoun, Liver Transplant Surgeon, who specializes in robotic surgery at Cedars-Sinai Medical Center.
This clearance is supported by clinical data from Prof. Thierry de Baere (Gustave Roussy Cancer Center, France) and Prof. Boris Guiu (Montpellier University Hospital, France), whose teams used the Epione® system to treat primary and secondary liver tumors.
About Quantum Surgical
Quantum Surgical is a medical robotics company committed to developing tomorrow's healthcare. It aims to set new standards in cancer treatment by allowing more patients to benefit from innovative, targeted and less invasive treatments.
Co-founded in 2017 by Bertin Nahum, Quantum Surgical is headquartered in Montpellier, France. The Quantum surgical team has over 80 employees and a leadership team with extensive backgrounds in medical, orthopedics, neurosurgery, and spine surgery robotics.
For more information, please visit Quantum Surgical website and follow the company on LinkedIn and Twitter.